Traffic is a major factor in city optimization, and is typically only a problem when a big city is highly developed.
Traffic is viewable in its own filter, and also is a factor in city happiness.
The easiest way to decrease traffic is by upgrading from dirt roads to city roads, and from there, more organization is required for further optimization. Expressways, oneways, and busses are all very important in fully optimizing a city's traffic system.
Galleries
Edit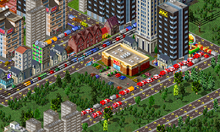 Here is The Galleries for
Traffic:
See Also: Roads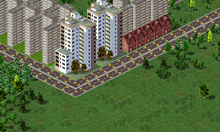 Ad blocker interference detected!
Wikia is a free-to-use site that makes money from advertising. We have a modified experience for viewers using ad blockers

Wikia is not accessible if you've made further modifications. Remove the custom ad blocker rule(s) and the page will load as expected.